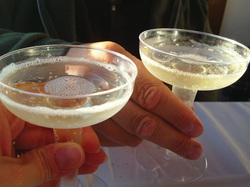 "With this ring I thee wed."
How many times is this phrase repeated by a beautiful woman in white and a handsome, yet nervous, man in a tux? All the planning and buying for that special day holds a world of promise by two people committing their love to one another indefinitely. It's important to remember the words "in good times and in bad" are repeated too, if the marriage is to thrive.
The honeymoon period ends, of course and for some it's a wake-up call. The spot light is gone. The attention from others lavished during the engagement period and checklist of flowers and rings and dress has tapered off. It's just the two of you. Forever (echo forever, forever).
According to 2012 research from the CDC's National Survey of Family Growth, only one in fifteen marriages will survive the first ten years. What happened to "till death do us part"? There's a commitment to stay committed in a loving relationship. It must be made every day, sometimes every hour, not just once at the altar. Times will get tough and in order to be happy where you are you must fight to stay together more than fight for anything else.
I have been married almost eighteen years, to the same man, mind you. We have four children with varying degrees of health issues. We've had great times and trials and we've both had the urge to throw the matrimonial towel in from time to time. We've always worked harder to stay close. These are my tips to continue loving your happily ever after.
You can go to bed angry. Sometimes sleep and time will help put things into perspective, but don't forget to address the issue maturely later. Hear the message they're trying to make despite their emotion. Avoid bring up the past to make a point; it'll only lead to circular arguments that get out of hand. Using the words 'always' and 'never' is a definite no-no.


Do something small to tell your beloved you still think of them. Put a love note in their lunch (but not in their sandwich), e-mail them a sexy innuendo, buy them their favorite candy. It doesn't have to be large or expensive to remind them they are special and loved.


Schedule date night. Make it special. Dress up if you want to. Hold hands and make googly eyes at each other from across the table. Have conversations about life, where you are and what you think about them.


If kids come along, keep in mind your spouse is still your biggest support who will (should) be there after the kids fly the coup so attempt to comb your hair and change out of the urp stained shirt before the hubby or wife comes home from work. It's easy to go from being a sexy mama to a frumpy mama wearing formless sweatpants. Trust me on this one.


If a crisis happens, regroup together as a partnership. Men and women grieve and accept life changes differently. Without communication one might assume the other doesn't care or isn't suffering. Keep talking with each other. I say this from experience. Health issues that rock a solid couple can cost a marriage. Don't let space grow between you, pull them close and hold them as tightly as a life preserver in a rough sea. Chances are you'll both have more to give going through it together than thinking you're alone.


Don't wait for the kids to be out of diapers (or, heaven forbid, off to college) to rekindle the magic of hormones that brought you together. Spice things up. Chances are modesty is in the rear view these days. Take chances, do something naughty.


Share. Share stories, private jokes, share pastimes together and make new memories to keep your union fun and current. Laugh and touch. Stay connected to the person you share your life with.


Speaking of touching-have sex. Often. Snuggle. Reconnecting on an intimate level will strengthen your bond.


Remember why you fell in love, said 'I do' and celebrate it. A loving marriage is worth the time and effort. It may not be a fairy tale all the time, but it can be a happily ever after.