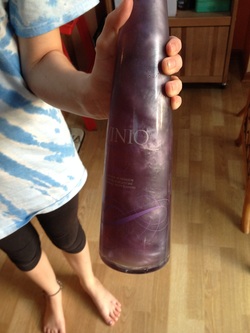 It's October. Time to talk spirits. I'm referring to the good stuff you drink.
For those adult beverage lovers out there in New York, I'm about to describe a wine-type experience that is, at the moment, unavailable in our great state. It's called Viniq.
This is something new from Viniq Spirits Company in Parlier, California (www.viniq.com) . Made from vodka, Moscato and fruit flavors, this will wake up your taste buds and delight your eyes. Why? It's a shimmery liqueur.
Personally, I have never seen a drink, alcoholic or not, that shimmers. Royal purple in color and beautifully packaged in a sleek, long-necked, sophisticated 750 ml bottle, it is mesmerizing to pour and swirl as the silver sparkles ebb and flow. The designs it continuously makes reminds me of Hollywood's version of molten lava or the fiery pits of hell, without the lava or doom and gloom. I found it hard to wrap my head around the beauty of it. And of course, the more I drank, the more intriguing it became.
It also tastes great. I found the first flavor to be of tropical fruit or grapes, my friends found the taste of vodka. It is strong, at 20% alcohol by volume. Initially, I joked that the silver shimmers were mercury. Upon further brow-furrowing in-depth discussion and theories my group came up with the idea the constant swirls are from the sugar syrup that are neither gritty nor sweet, even when it settles to the bottom of the bottle after sitting awhile. Whatever the origin, it's a pretty unique concept. Whether it's over ice or enjoyed with bitters or lemonade, it's delicious. I highly encourage it accompanied by copious amounts of chocolate cake.
How did I get this bootleg beverage? I have friends in high places, or actually, southern places. A friend of mine who recently moved to Florida saw the advertisements and bought a few bottles, saving one for our visit on her return trip home to close on her house. She was told they were flying off the shelves and figured it might be harder to find here. Was she ever right. Once in New York she wanted to buy a few more bottles for an anniversary gift (great idea!) and found it was not available here at all. Although it's sold in every other state, the kick-off date for us will be February 14, 2015, just in time for Valentine's Day. The average price is around $25.00 a bottle, comparable to other flavored vodkas.
As to the particulars about whether it can be purchased out of state and shipped here, I'm not sure. I will say if you like trying something new and impressing your friends, this would be a great addition. If waiting for February 14th, you might be fighting cupid to get the last sparkling drop.