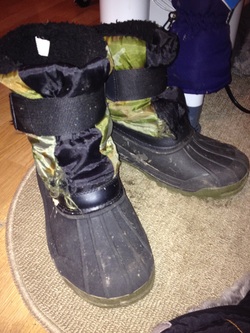 Why isn't it Spring yet? I've had it with the Winter of Stinky Boots. This has been my life for the last 120 days or so.

Winter starts out like any other. "Ooh! The first snowfall! Isn't it magical?"

Then morphs. "Huh, it's snowing again. Guess we'll see a white Christmas." But it doesn't stop. And it just keeps getting colder.

By the New Year we're seeing more snow than Alaska (I live in New York) and colder temps than Alaska (why am I watching Alaska shows and all their turmoil when I can reflect on the perils of my drive in to work?). Schools are now closing for 'cold' days as opposed to snow days. If the kiddos lost fingers and toes how would they compute the new Common Core math? "Question: What's colder than a witches t*#? Answer: Syracuse Goddamit."

February proved that cabin fever exists and it must like an MRSA version as there is NO CURE. The kids are now running around the dining room table to get out the wiggles because they can't go outside and I can't leave the house because:

A) I'm tired of my nostril hairs freezing two seconds after walking outside

B) I'm sick of looking like the Michelin Man outside and indoors

C) There is no place to go that will not cause me several levels of stress in the process, oh, and,

D) I wouldn't be able to locate anything anyway as the sky and ground are exactly the same non-color of grayish-white-bleh.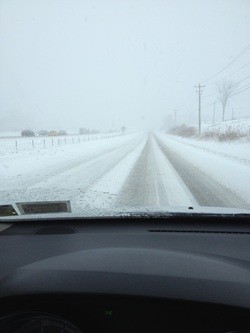 I'm starting to look at my children like they're acting nuts on purpose to drive me insane and the husband is looking at me like I knew this would happen if we became parents but never warned him. "Stop snowing!!! I cannot handle being in the same house as my family any longer!"

March is here. That's 120 days of my kids not wearing socks in their boots. It is putting me over the edge. Their boots, just about falling apart from overuse, are soaked with each excursion outside and must be dried before the next day. Enter the boot dryer. Normally it's an incredibly wonderful invention. At this point it's the evil means of spreading foot funk into the cozy confines of my home because Mother Nature is still withholding the goods of a fresh, warm breeze.

The changing of the clock and the longer daylight hours look good. I won't believe Spring is really here until I can walk through my front door and smell something other than prepubescent toe jam. That is, when my nostril hairs thaw out.