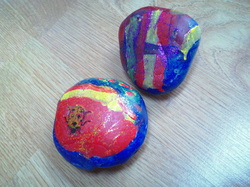 Paint is cool. It rocks. Painting rocks is cool, too!

It appears this summer may be more like Frank Sinatra's Singing in the Rain than the 5th Dimension's Aquarius/Let the Sunshine In. At my house, too much rain equals a muddy, sloshy mess that has me grinding my teeth when the little ones are yelling "I'm bored!" Whatever the weather is at your house or camp, sometimes a simple, old fashioned activity is the most fun. Here's an inexpensive inside idea to keep your kids busy for hours.

There are several different ways to approach this. You'll need rocks of varying shapes and sizes. Some people have an unlimited supply of stones and rocks in a driveway, a parking lot, or the side of the road. Apartment dwellers might be more apt to buy a kit in either the toy or craft section of the store (surprisingly, you can buy a box of rocks).

Paint is needed, but not the watercolor kind. Dollar stores have these with the brushes for, you know, a dollar. There are several to choose from: neon colors, pastels, primary, sparkles, glow in the dark. Pick up one or pick up several. Even vials of glitter and stickers can be used.

Once your kids are dressed in play clothes find an area you don't mind them using to get their imaginations revved. I choose the laminate floor in the kitchen and plan on mopping afterwards (less opportunity to spill stuff off tables and onto rugs). Spread out newspaper and tell the young ones this is their area. Load it up with stones, rocks, paint, brushes, liquid glue, small cups of water, paper towels and a wet washcloth (creativity is bound to find its way outside the box).

Give them the go-ahead and indulge in whatever you want to do for the next hour or so but be available in case things become out of hand or airborne. Painted rocks are great gift ideas the little Picassos can give to Dad for Father's Day or to give away, far away, to Grandma and Grandpop. They can also spruce up a play house or fort outside, decorate a garden, or if you're like me, have them on your nightstand to remind you how much your kids love you.