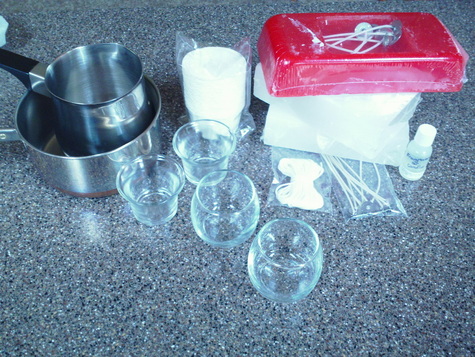 I'm bored. We're at the very end of July and the kids are getting antsy. The usual distractions are no longer keeping them occupied and since we're on a bit of a downswing for temps, I've needed something new for them to do.

I went to three local craft stores and between them all I found some basic items for do-it-yourself candles. I browsed through the fancy books too, trying to retain as many cool themes and ideas I could. For roughly $30.00, this is what I ended up buying:

A few blocks of plain white wax (4 lbs), one apple scented red block of wax, a supply of wicks with wick tabs (the little metal disc at the bottom of a tea-light or votive), a small ball of wick, 4 glass votive jars, a bunch of oversized cupcake cups (heavy-duty paper), and a bottle of fragrance (which I didn't use today). There were eons of goodies out there for the more advanced. Being a beginner, I left them. For now.

The kids were chomping at the bit when we came home and it took a while to prepare everything. My first concern was the required double boiler. I improvised with a small saucepan and my cappuccino maker's milk pitcher since it has a spout. Next, I needed to break the block of wax as it was too wide to fit into my pot. I wandered to the garage and tried a few hammers with no luck in splitting it. I ended up using a potato wedger to cut it and that worked great.

While the water was starting to boil in the saucepan I scavenged for some freebie molds. I found a Styrofoam cup and shampoo container in my recycling bin. I will say I scored big on the shampoo container. I think from now on I'll save those for the next batch of candles I make. It gave the candle a fragrance for free as well as an interesting shape.

I didn't waste the large sheets of paper the store used to wrap my glass jars, I covered my table with them for protection and speedy clean-up. Then I lined up the wicks into the cups but they bent over and needed stabilization. I found some wooden chop sticks from the last time we had take-out and they served double duty; I used one to stir the wax while it was melting, and used a few to 'hold' the wicks. When I was done I could have tossed them had I wanted to, but I saved them for the next adventure.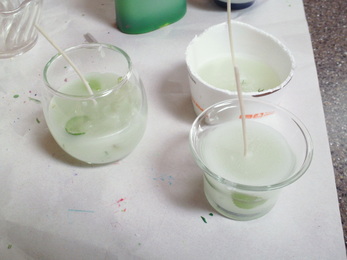 Using white wax allows neat things to be suspended in it if they are either close enough to the surface or side to see until the wax starts to melt when the candle is used. We had a handful of broken crayons so we took the paper off and smashed them into tiny bits. PS: that part was mighty satisfying. My boys each wanted different colored candles so we dropped the crayons in the clear liquid which immediately turned the first color they dropped. I was hoping for the chunks to melt only a little, so that was a learn-as-you-go lesson. I poured the melted wax into the container they chose (make sure to wipe the water off the bottom of pan first!) and after it started to firm up a bit, stared to drop the bigger pieces into it. Obviously the heavy ones sank right to the bottom instead of being amazingly suspended. I eventually figured it out, just a little too late for this time around. The melting pan needed to be cleaned in between the boy's concoctions and my own (see below for clean up).

I wanted my candles to be more organic and botanical so I snipped off pieces of rosemary, lemon balm and chamomile from my garden and tried to strategically place them into my jars. Then I found a piece of crayon the boys missed. It was a spring green and I dropped only a few pieces into my wax which made it a natural and earthy shade of light green, and poured away.

Ok, so far this has been fun, but now all my pans are covered in not only wax but in icky crayon. Soap and water didn't do it and neither did an abrasive cleaner. I put the melting pan back in the boiling water until the residual wax melted and I carefully wiped it out with a paper towel. I used the hot water to wash off my potato wedger as well as the saucepan itself.

Once the candles cooled completely I put them in the freezer to remove them from their molds.
Helpful tip: banging the candle on a counter does nothing but crack the wax and frustrate the artist. Don't try.

Snip the wick to about 1/4" and you're ready to light the way!