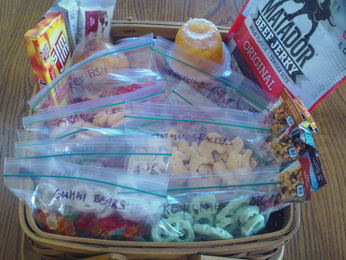 It's summer and everyone's doing it. Going on road trips, that is. This is also the best time of year to play the license plate game. I've seen half a dozen out-of-staters myself. Perhaps it's not necessarily the most stress-free way to vacation, but a great way to bond with the family and make memories.

Do you know the secrets to day tripping without spending the same amount of money as you probably would on flying and hotels? (Ok, it's not even close, but still). It's in the forethought and preparations. So here we go!

I've been doing a lot of hourly driving this summer, taking our boys to and from a camp specific for those with bleeding disorders. It's a beautiful drive, but quite boring when you're seven and nine. Or forty-three and forty-five. Nothing gives me the munchies more than passing time by passing miles. So, to stave off the monotony of fields of road denim and amber waves of grain I pack something from every snack category. Think crunchy, chewy, sweet, sour, salty and soothing.

The trick is to buy the foods you love but maybe haven't splurged on in a while. This is a treat, after all.; I stuck with a lot of items I could easily find in the bulk section of the grocery store so I could buy the quantities I wanted. Here are some suggestions:

Sweet: gummy bears, fruit cups

Crunchy: yogurt covered pretzels, animal crackers

Sour: Sour PatchKids, Nerds

Chewy: soft granola, cookies

Salty: beef jerky, chips

What I've found to be the most economical is to prepackage them into single servings using snack sized baggies. Portion and label. This will slow down your passengers from Hoovering (think the vacuum) through the goodies, give them ample choices throughout the ride, and maybe cut down on the amount of crumbs that will find their way smooshed indelibly into the seat fabric.

Time for the food stops. Prepare P&J sammies ahead of time due to the sticky/gooey factor. Bring a whole loaf of bread. In a large plastic Ziplock bag pack several kinds of lunch meats and cheese slices. This way they won't get water logged from melted ice in the cooler. Don't forget condiments pared down into small reusable containers. Pack a stack of paper plates, napkins, twisty ties (they will always come in handy), plastic knives and spoons, and a few plastic grocery store sacks for trash bags. Put everything in an easily accessible basket to reduce the 'pawing' effect as each person looks for something that appeals to them. I always keep a package of fragrance-free baby wipes in the car for cleaning sticky hands or unexpected spills.

Now that the snacks are covered don't forget drinks. I'm not a big advocate of sodas but I do like sweet tasting drinks. I opted for bottled waters, PowerAde (yummy grape and fruit punch), and sparking waters flavored with lemon, lime and mixed fruit. These waters come in a can similar to a soda. They have absolutely no artificial sweeteners, just flavoring that sits on the carbonation of plain ol' H2O.

I won't go into the how-to of keeping meats and dairy products cold. Just do it. Otherwise you'll be remembering this adventure as the year everyone ruined the upholstery in your beautiful car in ways you wish they hadn't.

If you have a vehicle with movie capabilities you've scored big time. Bringing along two movies covers almost four hours of whine-free driving. What's not to like about that? Include a few pieces of blank paper, markers or a video game and you're set for the whole trip.

I am not ashamed to say we took a 250+ mile trip a week ago with 7 people and did not buy any food or drinks. We ate on the $60.00 I spent on sandwich fixings and snacks. That's less than $10.00 a person. Not bad for a tight-wad like myself. I'd rather my money go towards the fun of the vacation rather than the getting there any day. And at the end of the trip our kids remembered the flavorful treats and the cool things we did when we got there. Just what I want my memories to be, too.