I know what makes you scared. I can feel the shadowy veil of fear slithering over your shoulder already. Don't be intimidated; be prepared—to have fun. It's almost Halloween!

There is no other holiday more perfect for a party because everything from the menu to decorations is wrapped in a seasonal bow of themed convenience. Hosting the ultimate costume party is not difficult if you allow your imagination to run wild. I have a wonderful reason myself. One of my daughters was born on Halloween so I know firsthand how to have a great get together without the stress, despite a busy household. From my experience children of all ages can help out and enjoy these activities and games. Get them busy creating and celebrate the joys of being safely scared and sweetly sugared this crisp fall season.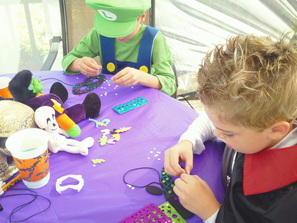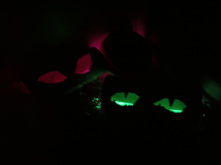 A day or two before the party: Since the retail people have been selling their Halloween items since July it can be difficult for the little ones to wait. Have them work their fine motor skills with molding clay such as FIMO that, when baked, turns into practical art. Just about all craft stores have this dough that doesn't cost a lot of dough in every imaginable color. Make spiders, pumpkins and witch's hats freehand or use Play-Doh molds and even cookie cutters. They can be proudly displayed just about anywhere. Mold the clay to their upturned palms to make creepy disembodied hands that hold candy. This also keeps their little mitts preserved for years to come better than finger painted projects from school.

Another idea I've seen on Pinterest is 'glowing eyes'. Save a stash of empty toilet paper and paper towel rolls. Have your helpers cut out scary shaped eyes and maybe a mouth or two. Just before the party starts, break a colored glow stick (purchased from the Dollar Store) for each and place inside. Put these decorations in dark places such as outside in a shrub, by the front door, in the bathroom (like a holiday night light!) or in a dimly lit corner of the party room.

The day of: Have the kids make pretzels wands. Buy large pretzel rods and roll one end in chocolate frosting then in mini M&M's or sprinkles. Set "loaded" side up in a heavy festive glass. Just be sure these treats don't magically disappear by the wand makers before the party starts.

Deviled eggs, so aptly named this time of year, are simple enough for the most basic baker. I saw this recipe on the Today Show. It was a delicious conversation piece the guests raved about. Prepare the yolk mixture normally then add one or two drops of green food coloring before putting the dollop in the egg-white 'cup'. Place a green or black olive slice in the middle and use a toothpick to draw the red squiggles with food coloring on the sides. Instant gross and yummy at the same time!

Once the party is underway it's often hard to curb the little ghost and goblin's enthusiasm while the big kids (that's us, the parents) mingle. Target has complete craft idea kits such as designing masks with foam stickers. Offer more options by buying different stickers at the Dollar Store. Last year this kept all my kids, their cousins and friends, ages 3-15, busy for over an hour with no messy glue or scissors. The only problem with this craft might be finding the little stickers on the bottom of your socks later. I had them on mine for weeks, but it was totally worth it.

Get them moving with a short M&M relay race and encourage the parents to join in. Split the group into two teams and arm each with a plastic straw. Place two chairs about eight feet apart with an empty bowl on one end and a bowl with regular sized M&M's on the other. Have each person 'suck' up the candy at the end of the straw (it's impossible to actually inhale the candy through it so no worries) and while keeping the suction, run to drop it into the empty bowl. Set a timer or have the teams race against each other. Keep prizes monetarily low key like Matchbox cars or hair accessories.

Settle the monsters back down with another dose of inventiveness. If you choose to be daring, supply permanent markers (Sharpies) and have a 'pumpkin' decorating contest with small pie pumpkins or gourds. They make great canvases for creativity. Just remember regular markers will wipe off on the waxiness of the squash. Don't forget ribbons or other door prizes for everyone.

Halloween is a time for entertaining and enjoying the season with the kids. Take off the grown-up mask for a little while and get your spooky on.


Menu:

Main dish: Pizza or subs
Side dish: Deviled eggs
Brains, bones and body parts (veggie tray and dip)
Snacks: Pretzel wands
Donut holes
Drinks: Monster Goo (fruit punch and ginger ale)
Witches Brew (coffee, soda)
Dessert: Spiders (cupcakes)
Originally published with Family Times magazine, October 2013