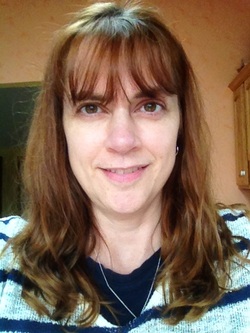 Ok, this is something new for me. I'm posting this online as I go. I've decided to take the permanently permanent plunge to red with natural henna instead of boxed chemicals. Follow along if you're ready for a field trip, 'cause here I go.
Ok, the picture to the left is my
Before
picture today. It is also a Friday afternoon following a week of work, karate, groceries, my daughter's 18th b-day, etc. You know, the usual. So, give a girl a break if I'm not at my best (and I didn't bother with make-up this week either. Sue me).
I have been diligently studying henna. If you're one of my followers you already know I love body art with henna. This however, is a big step as dying one's hair with this doesn't just coat the shaft of the hair, it seeps in. From what I've read there is little oxidation and fade-out. Re-coloring is an average of every 4 months. Well, we'll see.
Here are the background details. Henna is a plant. The leaves are the only part that has pigment. Ground into powder this is called red henna. It will dye only red and is true henna. In a nutshell, nothing else is real henna. Black henna is made from the root and is also called indigo. This powder, when used as a dye, will come out black. Neutral henna doesn't have any pigment in it at all. Using this will condition the heck out of your hair and make it luxuriously soft and smooth but won't do anything to the color. Any retail box dye that says it has different shades of henna has other things added, such as metallic salts. These are bad. So finding a powder that is honestly red henna is going to be the first problem encountered. I bought mine at a local health food store, (
www.natur-tyme.com
) . It's organic so somewhere someone's certifying that the powder I brought home is the right stuff. It also smells like hay which is what red henna should smell like. It was also only $1.08 an ounce. For those who like body art, stop buying whole kits for thirty bucks a pop and invest in what you need: just the henna powder which only costs pennies.
Next, I needed to mix it up with water and a splash of lemon juice 12 hours in advance. Remember, this will stain any porous surface. I kept mine in a wide-mouth glass mason jar and kept it at room temperature to 'cure'. Today I got my supplies together. Gloves, newspaper, comb, clips, oil, wet wash cloth, shower cap and old towel. I thought it would be a better choice to put a large plastic trash bag over me to protect my clothes. This was one of my mistakes. More on that later.
I used a cotton ball to put a little grapeseed oil around my hairline, ears, and neck to protect them from the henna. I tried to section off my hair with the clips. I double-gloved (I am a nurse first if not anything else). I had my room covered in newspaper so I looked like a homeless person, but I didn't have a friend to help. This was mistake #1.
I started in by spooning the Greek yogurt consistency, hay smelling mixture over the section of hair at the root. I read to glob generously. I tried. With gloves on the sensitivity of your fingers is dulled so it was hard to tell what I did and what I missed. A friend would've made this easier. Once this stuff's on it's like rolling in a mud pit, your hair will knat together into an unfriendly (and quite scary) greenish mess. My hair kept swishing like a horse's tail on the plastic garbage bag (mistake #2) and then subsequently, my face got in it as I turned and continued to apply. There was some other splattering but it was kept to a minimum. I tried to use the wet washcloth on my face and neck but my henna smeared gloves got the cloth covered as much as I was wiping off. So I moved quicker and tried not to hyperventilate my OCD into overdrive.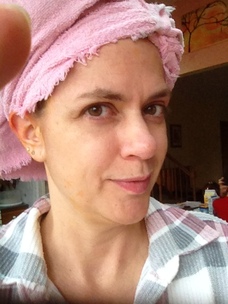 The picture to the right is me after I've cleaned up. Once the henna was applied and coated as evenly as I could, I covered it with a shower cap (plastic wrap works just as good), and an old towel circa 1988 from my college days. Now it just needs to stay warm and do what it needs to do. After a good 3-4 hours I'll take it off and accept my new fate. My friends at work are already prepared for a turban or scarf combo if this turns out badly, but I'm pretty sure it'll turn red. If you look closely my jawline on the right side has a few orange marks where some henna splattered. Regardless of the outcome, I'll post it here. Wish me luck!