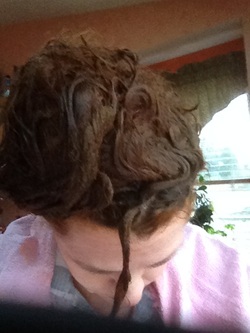 Yeah. Scary stuff first. This is what it looked like after I undid my wrappings. Kinda greenish and definitely the aroma of a fresh barn. There was a few moments when I was convinced every site I researched was a prank. My hair would be green and gnarly forever. The last time I had a moment like that was when I was in labor the first time and was absolutely certain there was no way a human could be born the natural way and everyone had been lying to me. Like I said, it's unnerving and I needed to keep the faith. The picture below really shows that nattiness. There is no way a comb, pick or barn fence is going to go through this so be sure when adding the henna the sections are saturated because there's no going back.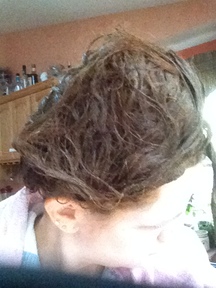 I used our utility sink in the basement to wash it out. Don't forget gloves here too, it's important as the henna is activated and strong.

I tried to put a little water in my hair to massage it evenly in the same manner the box mixes suggest. That was really messy and the entire sink was covered with gritty brown goo (henna will flake into grit when it's dry). Keep rinsing the hair, and sink, until everything is clean. Be sure to wipe off your ears and neck.

Looking at this Medusa-style do I came to the realization that although several sites advised not to use shampoo or conditioner it was necessary. My hair was a huge heavy knot otherwise. And it still smelled strongly of hay. So I used the conditioner that comes with the box mixes. It was a very pleasant coconut. As soon as I applied the conditioner my hair immediately went "Ahhh!" and relaxed. I re-wrapped it in a clean towel and kept in on for about 10 minutes. I would have kept it on longer but truthfully I couldn't wait to see my new look.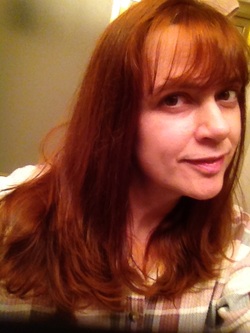 It was now almost 8pm and all the natural light was long gone. This was what it looked like inside. It's good to keep in mind it will take a few days for the color to settle down so if you do it and it's crazy, give a little time. I'm pretty happy with the color it is. I'd compare it to the boxes that show the vibrant reds. It is a little softer and it is definitely shiny. Maybe the henna strips the buildup of products to allow the light to bounce off it.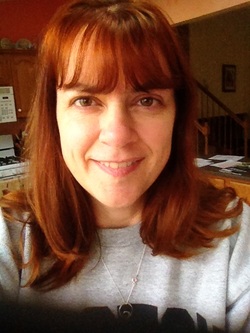 Good morning! Actually it's about 10 minutes after I rolled out of bed so I'm not ashamed to say I feel pretty good about myself. Sorry friends, I'm not much different when I go to work. I can't really tell if the color is noticeably more red by my window, but it is definitely different than yesterday afternoon.

Now to be nit-picky I can tell the hair along the sides of my face and temple aren't as colored as the rest. Whether this is from getting a little grapeseed oil on it when I put it along my hairline I'm not sure. The good thing about henna is the frequency in which it can be used. I might make up a very small batch tonight with water to do a little touch-up tomorrow. From everyone else's testimonials it'll blend in with what I did last night.

I'm not claiming to be an expert but I'm confident I'll be using henna from this point forward despite the time and mess. But then again, that's what happens when your dye-ing to be red.