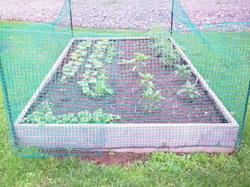 Green thumb?
You can have one and it's very simple. Even if you're space challenged, you can grow something organic that tastes great and gives a sense of pride and accomplishment that you did it yourself. Here are some easy steps.
Find what you'd like to grow-herbs, veggies, flowers, fruit. Pick one (pun intended). Make sure your climate is friendly to the harvest date. (I don't have time for thyme, it takes 200+ days by seed. We'd be into snow by then). Decide if you want seedlings (tiny plants) or seeds.


Decide where it will live. Do you have a patch of lawn that is less than perfect? A space big enough for a garden? Raised bed? Window box? Decorative planters? Most seed packets will tell you if it is pot-able. Some are tailored for small areas and all will give dimensions for height and suggested distance apart from another plant.


Prepare outdoor area: Make sure it will be sunny at least 90% of the day. Rototill or break up soil. You can spread manure (old stuff ONLY or you'll kill your nose and burn your seeds!) or peat moss if needed or desired. Clay is the only type of soil that is difficult to use. Some plants actually like their feet dry in sandy dirt (cukes, carrots, radishes, lavender, hostas, strawberries). Many professionals can overwhelm a novice by talking about pH levels but you'd be surprised what will thrive if you give it some TLC.


As a rule of thumb in NY plant by Memorial Day. But then again, some places around here had snow this year so no worries! Plant away now. Peas and salad-type greens grow fast and can be replanted for later crops (refer back to harvest time frame). Space out and plant according to directions. Water.


Now have patience. Water every day or two. Don't weed the area until you know what it is. Once things come up you can pick the sneaky weeds that are wannabes. Then weed as needed.


Support climbing viney things like morning glories, cukes and beans that will allow your space to be used smartly. Stake plants that will get heavy with the fruits of your labor and, like us in life, need something to lean on.


If your outdoor area has wildlife critters, a cheap plastic fence will keep them from munching on your tender greens. Planting marigolds will discourage a lot of pests, too.


Use fertilizer if you've made peace with chemicals and if you want your tomato plants to turn into trees and everything else to be described as "super".


Enjoy watching your garden grow and harvest when ready. Be prepared to eat a lot of what you planted. More advice to follow on canning, freezing and using fresh garden fixin's.