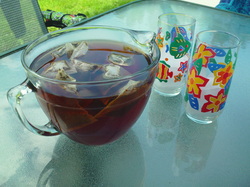 The dog days of summer have arrived!
Today it was nearly 90 and the rest of the week is in the upper 80's as well. It's when I start craving homemade sweet tea, the kind that is made from being steeped out in the sun. Here's how I enjoy the heat to stay cool.
Items needed: Sunny day or plain ol' warm weather
Large clean glass container with a lid
(I prefer a mega pickle jar) or the equivalent
8-12 tea bags
1 ½ quarts water
3/4 cup sugar or substitute
24 ice cubes
Large spoon
Make it your Special-tea
Use whatever type of tea you prefer. It doesn't matter if it's loose tea (use a tea ball), has strings or is specially shaped. I have an addiction to buying assorted teas wherever I go so I use (read: clean out) what is taking up prime real estate in my cupboard. Mix and match if you choose. Using a few bags of black tea and a few of green or white tea tastes great. Combining herbal teas is also delicious. It's a perfect way to customize what makes your taste buds happy. All my children, and it's difficult to get a 4 out of 4 with my crew, love my summer teas. It helps me enjoy the flavors before they're too old and makes room for me to buy new teas (oh yeah!).
Fill the container with water and add tea bags and put the lid on it. I put mine out on our patio in the full sun and leave it there for an hour or two. Making sun tea is all about preference so bring it in earlier if you like it weaker or leave it out longer if you like it stronger.
Add sugar, sugar substitute or honey to taste and stir well. This is iced tea so load up the ice cubes until it's chilled or put the container in the fridge.
Best if served cold in a tall glass. Garnish with mint if you'd like to be snooty. Enjoy while relaxing in these beautiful summer days.