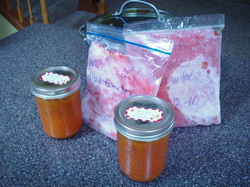 It is almost tomato season so I'm starting now. Be prepared. Crops of harmless looking tomatoes ripening at once are like little snowballs rolling down a ski resort mountain. They will keep going, faster and faster and create more food than you'll be able to eat in a daily salad. Before you know it, you'll have a laundry basket full of juicy, tasty, lycopene filled produce that will need a home before they shrivel and rot.

Making tomato soup is a fast way to thin out the crops without wasting the goodness. Whether you can or freeze, it's a great way to save for later. Canning is an old-fashioned way to preserve foods without the need for refrigeration. It's what my grandmother and aunt used to do and probably some of your relatives, too. It might seem intimidating and, well, old-fashioned, but it really isn't. 'Putting up' foods is still an economical way that hasn't been trumped with something more modern without adding chemicals or preservatives. And if you follow directions, it's no more difficult than figuring out the electronic devices we have (in my opinion).

I won't go into the details of canning other than to say there are some supplies you'll need to buy such as canning jars and seals, but they can be reused year after year. Once the initial investment is made, the lids will be the only thing that will need to be purchased the next time.

Freezing is also an option if the word 'sterilize' (pertaining to canning) is scary. First the tomatoes must be blanched or flash cooked then cooled to stop the cooking process. This will retain the flavor and nutrients and make the skins easy to remove. I pick and wash my veggies, (or call it a fruit, whatever) fill a large bowl with ice cold water, and also fill a large pot with water and put it on the stove. Once the water is boiling, I score the tomatoes--cut through the skin of the underside of the tomato in an "X" and put them in the water. Boil for about fifteen seconds, scoop out and put into the icy water. It shouldn't take long before the tomato is cool enough to handle. The skins will come off easily where the "X" was. Now they can be put in plastic bags or packaged airtight with a seal-a-meal either whole, crushed or made into soup. Label and freeze to enjoy later.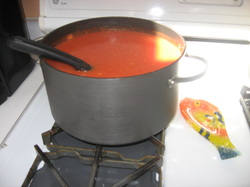 Tomato Soup

1 peck ripe tomatoes (I used about 15-20 tomatoes)
4 onions, chopped
1 c flour
margarine
6-8 whole cloves-optional
1 c sugar
4 t celery salt
5 t salt
3 bay leaves
1 t pepper

Combine first five ingredients in a large pot and bring to a boil over medium heat. Reduce heat and simmer for an hour. Remove it from the heat and cool if you'd like to run it through a food mill. If you like soup with bits and pieces in it just take out the bay leaves.

Add margarine and mix until melted.

Remove about 4 cups into a blender and add the rest of the ingredients, blending until smooth. Return to pot and cook over medium, stirring often, for about five minutes.