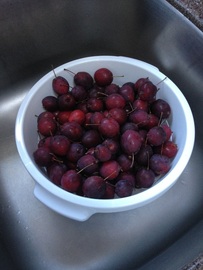 I do believe in some previous life I was a homesteader who lived off the land. Most 46 year olds aren't compelled to pick berries, make soups or can their own jelly. And then there's me.

So, last week in near 90 degree temps I picked all the tomatoes that were ripe in my garden and made tomato soup for the winter. It wasn't my fault, the tomatoes made me do it. And as we're still squeezing out the last of the 3 H's (hot, humid and hazy), I have no choice but to put food up at it's peak of ripeness. Yay, New York.

Today's adventure is making crabapple jelly. There's a tree near me that is bursting with fruit. I really don't know what kind it is, other than it's crabapple. The pull to use the fruit has been bothering me so I bought some jelly jars and decided to try it.

I picked about 3-4 pounds. After taking the stems off, I washed and sliced them in half. I added just enough water to cover the fruit, put a lid on it, and cooked about 20 minutes. They were supposed to be tender but not mushy. I goofed that up. Ah, well.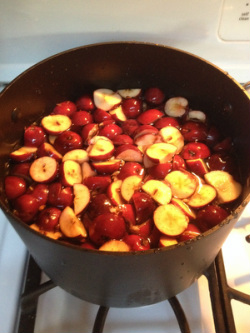 I read using a wire strainer would be perfect; the holes are too small for the fruit to come through. I had that. What I failed to do was use a WIDE pan to strain the mixture into. Suffice to say I lost almost a cup of the juice when the fruit filled the strainer and the liquid had no other place to go but out the sides, all over my stove and on my feet. It is important to note here that the liquid has been simmering on the stove for enough time that it will burn. Ow.

Next, strain. I needed to let the remaining juices drip. This is the pectin so it's not supposed to be rushed. I read to let it strain anywhere from a few hours to overnight. I used a clean pillowcase and put the mash into it (thanks Aunt Louella for the [pillowcase advise!). This way it holds the fruit which would either make the jelly cloudy or cause foam at the top. I rigged it up to my microwave door with the pot underneath. At first it was dripping every five seconds or so, right now it's down to every 35 seconds. (This is a great opportunity to sneak in the last of summer math: "if the juice drips every 15 seconds, how many drips will the pot collect in one hour...")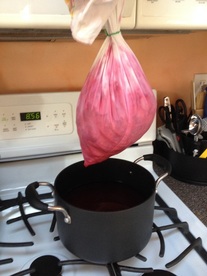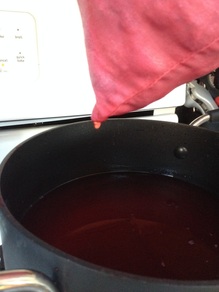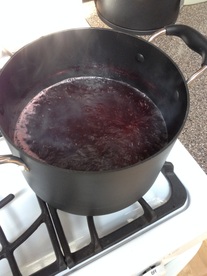 After a few hours I squeezed the rest of the juice out of the pillowcase and could do so because no amount of fruit would squish through. I measured roughly 12 3/4 cups of juice. I turned it on to simmer for what seemed like years.

Once it reduced to about a third I added sugar. Most of the resources suggested 1/2 to 3/4 cup of sugar for each cup of un-reduced juice. Mine needed only about 3 cups of sugar total (This is where pectin will be necessary so it gels). The mixture was then brought to a boil while I washed and sterilized my canning jars. The juice has to thicken (sheeting stage) and mine took forever. At one point I was wondering if I'd have any juice left to can.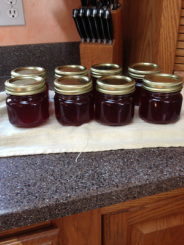 The longer it cooked the more concentrated the juice became, bringing out the beautiful ruby color. Finally, I was ready to ladle it into their jars and give them their bath. (It is now 92 degrees outside and it if weren't for the cranked AC I'd need a bath, too).

5 minutes in boiling water hopefully will seal the deal. They are resting now and so am I.