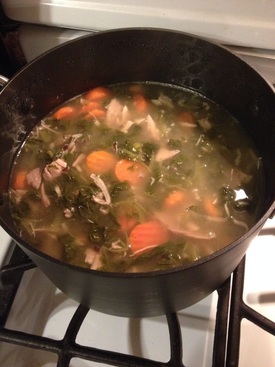 It wouldn't be the end of November without an idea or two of what to do with the leftovers. I'm not much of a turkey eater but I couldn't let the little pieces on our bird go to waste. After picking it clean I had several baggies of one cup portions of turkey for the freezer. Today, it felt like a soup day.

6 cups chicken, turkey or corned beef stock or broth

1 cup turkey, cut up into bite sized pieces

1 can turnip greens or escarole

8 oz rice, bean or grain medley (mine was red and brown rice, multi-colored split peas)

1/2 cup frozen carrots

season to taste with salt, pepper or garlic


Put all broth into a pot, add turkey and rice or grains. Bring to a boil. Cover and reduce heat to low. Simmer for 25 minutes. Add frozen carrots and simmer another 10. Season to taste. Serve with fresh rolls and a side of cranberry sauce to add some zing.