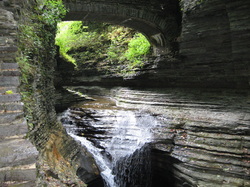 Vacation time is fast approaching!
Looking for somewhere close by that appeals to many different interests? How about Watkins Glen, New York? It's in Schuyler County in the heart of the Finger Lakes.
Plan for a few days and either stay at one of the 3 dozen bed and breakfasts, camp, find a lodge or book a hotel. With so much to do it's all a matter of which to do first.
For the sports enthusiast there is Watkins Glen International Racetrack, home of American Road Racing. Love the water? There is sailing, tours, dinner cruises and more. Are you a wine snob like me? Watkins Glen is by Seneca Lake (as well three other lakes, too) which is home to over 50 wineries, 2 microbreweries and 1 distillery. The views are breathtaking so don't forget your camera!
I'm a park girl. I like to walk and commune with nature. My favorite is the Gorge which is in Watkins Glen State Park. It boasts a trail of 2 miles of rock formation, 200 foot cliffs, and a stream that produces 19 waterfalls. Some of these falls you can walk over and some under and all are beautiful. Actually, Watkins Glen has the only National Forest (the Finger Lakes National Forest) in New York State.
Oh, and don't forget Watkins Glen also has shopping.
The park is open now. For more information check out nsyparks.com/parks/142.