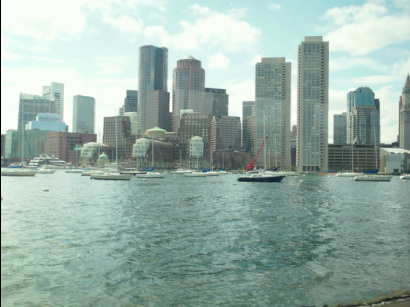 My husband and I were fortunate enough to visit Boston two days before the tragedy in April. I can't say enough how disturbing it was to hear about the bombings. We saw the runners check into our hotel. We watched them as they danced circles around us in their matching sneakers and outfits in zero body fat as they warmed up while we took in the sights. My deepest sympathies and sincerest wishes of recovery go out to those affected by the senseless act. Boston was already an incredible place. Their compassion just validates their reputation.

It's easily a weekend trip but worth the time. A few monotonous hours in the car is nothing compared to the atmosphere, history and education you'll soak up in the ancient metropolis.

Do some research first or fly by the seat of your pants. This city has more to offer than you'll be able to take with you. Go for the food. It's difficult to find a bad restaurant. I'm not much into seafood so we chose Italian and our taste buds went wild. It inspired me to grow more herbs to strive for that gourmet standard. I hear the pastries are wonderful, too. I think I was too intimidated by the runners to cave and get a sweet. I got a kick out of going to a 'bah' and ordering drinks with dinner. My husband had a 'be-ah' (beer).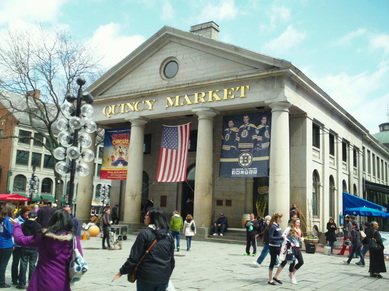 We took a trolley around the city and sat through the circuit twice to find where we wanted to go. There is so much American history crammed into this man-made place it oozes from everything. We're talking stepping off the Mayflower kind of history, and men who really were founding fathers. Where we would be without them leading and changing this new world, I can't imagine. We took the boat tour which showed "Old Ironsides" and gave a recap on how important the waterways were. It was relaxing with a different perspective. It allowed us to see everything from the outside in.

It's hard to come upon a street that doesn't have some significance. The fact that 2013 has blended around this building from 1776 blows my mind. The past and present together is a striking example of where we were and how far the journey has been to where we are today.

There is shopping. Quincy Market is a well-known hot spot, but there are other great out of the way places, too.

TD Garden Arena is in the heart of the city as well. They have many, many great performers lined up so if you're into music, look into a concert while you're there.

Whatever you do, experience, learn, and grow in a city that's inspiring as much as it is fun.