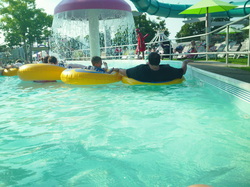 Let's take a family vacation!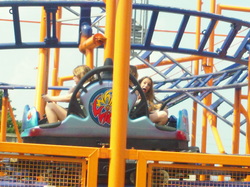 What does 1650+1846 equal? Rollercoasters, of course.

As early as 1650, Russian children were going down icy hills using wooden sleds with iron runners. Parisians in France are credited for the first exhibition of a looping gravity railway in 1846 called the Chemin Du Centrifuge. Once the rollercoaster and amusement park craze hit, it never stopped. By 1910 there were 2,000 operating amusement parks in the United States. New York has bragging rights with the fourth oldest one: Seabreeze in Rochester, New York.

It is a summer staple; taking the family to a park to enjoy the weather, and defy gravity with both wet and dry rides. Large parks may seem like a good idea, but crossing the acreage is tiring and the lines becomes a lesson in patience as the day moves along without you. Smaller parks are what my son would call 'lame'.

Seabreeze is the perfect size with a niche that fits each age group. We were a party of seven and everyone found something exciting to do. To combat 'lame' and hold onto it's history from the 1920's is the wooden rollercoaster Jack Rabbit. To stay updated this decade introduced the Whirlwind a coaster where the cart spins as it travels the twisting track. The illusion of where you think you're moving is just as scary as the height and degree of turns, as my daughter demonstrates above. I found myself closing my eyes at times. And it wouldn't be a park without a carousel and teacup ride. Everything also comes in miniature for the little ones, including the water rides.

New York may not be known as the warmest state, but when our mercury rises, it gets hot. When we went yesterday, the temperature was near 90 Seabreeze has a complete water slide complex. By the late afternoon the hubby and I were ready for a relaxing trip down lazy river as the girls enjoyed the racier tube rides. My sons, now tall enough to ride alone, couldn't wait to go on the Helix. It's like a giant toilet bowl to be 'flushed down'. Ah, potty humor for the vacationist.

In addition to the amenities the park offers, there is always people watching. I heard at least three different languages in this microcosm of humanity where we all got along just fine. It's also heartwarming to see there is still an element of trust by leaving a cooler and belongings on a picnic bench and returning to them hours later still intact and untouched.

For a day of family, fun and sun, we found Seabreeze a great adventure.