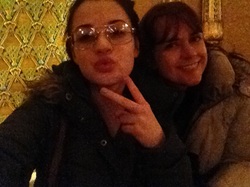 I was born at the tail end of the 60's. What my mother listened to was what I was raised on. And so, I am one of those people whose feet are firmly planted in the Beatles camp. I've never been a fan of Elvis, which is The Other Camp (For you young'uns this is similar to the Team Edward and Team Jacob thing a few years back). As is the way of the world, the music I listened to influenced my children. I'm proud to say by the time my daughters were four years old they could easily distinguish between a Beatles song, one by Paul McCartney and Wings, or one by John Lennon singing solo. I've very proud of those accomplishments, actually.

Anyhoo, my oldest daughter's soul has become apparent in the last year or so and she is recycled from the 60's herself. She likes to refer to herself as The Happy L'il Hippy and is usually immersed in retro styles and music. Luckily I'm cool with patchouli (thanks Mom!) and paisley. She was the one who saw the ad for the tribute band to the Beatles, Let It Be. It was coming to our city. It also happened to be on the evening of my birthday which would give me a great excuse not to cause a fire with candles and cake. And it's the closest I'll ever get to attend a Beatles concert. We were in.

Fittingly, the concert was held in one of our oldest and most grand theaters. Other than the woman at the t-shirt stand hawking paper-thin shirts for thirty bucks (cash only!) it was a great time. I can't say it was on par with the incredible light and sound shows of today because of the nature of the show. This was as if you were going to see the Beatles playing the Cavern in Liverpool, England in 1961. Think four men in suits with guitars bopping up and down to I Want to Hold your Hand. But it was very true to the time and great nonetheless. There were two old timey televisions set up on either side of the stage that helped get you in the timeframe. While the performers got a quick drink and the set was changed; the black and whites showed commercials that were on TV and the political news that was relevant to the year.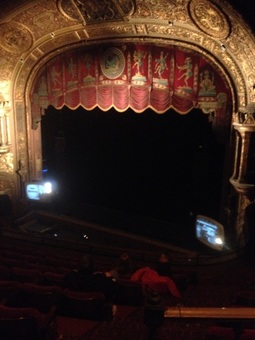 The band did all the most popular songs and a few that are still gems even if they never got the air time others did (hello When I'm 64 and Blackbird). I was impressed to learn the only song my daughter didn't know and sing to was Norwegian Wood off the Rubber Soul album. Funnily enough the two songs I didn't know or sing to were the above gems. There were subtle costume changes at first as the Fab Four morphed and grew up. By the time we reached St. Pepper's Lonely Hearts Club Band they were decked out in color (yeah costumes and psychedelic light show) and facial hair. Abbey Road was awesome with "Paul" practically barefoot (I think he had on socks) and "John" wigging out here and there in his white suit. A screen from the album cover was behind them making it surreal.

What I want to say most is how impressed I was with the musical ability of the men. I feel I have the credentials to say this, having a music degree myself. They really knew their stuff. Paul and John played both guitar and keyboard and played them well. This Paul actually played the acoustic left -handed and the electric right-handed. I think I'm the only one who picked up on that. FYI: I am also left handed and feel qualified in my comment. Not many artists, besides the original Paul McCartney, play any guitar left-handed.

The other performers also studied their respective artist down to the tiniest detail. Even though we had good seats their facial features were lost to us without opera glasses or binoculars. Their mannerisms were true to their artist and how they moved and acted during those specific concerts. Each Beatle sounded incredibly like the originals whether it was talking or singing. When Paul gave a little speech as an intro to Let it Be, my daughter 'oohed' because it felt so real. I was with her and so was the rest of the audience. It was a beautiful bonding moment to remember the message of peace and love.

Can you imagine what a great job that is to have, to be crazy about music and the Beatles. They get to be one and get paid for it. The energy and devotion made a great show. Catch it if you can and go back in time.