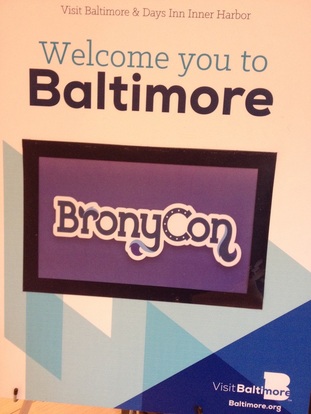 Of my 4 children I have one who is often reprimanded for spending 14 hours a day drawing ponies. Just ponies. (The other 10 are obviously sleep hours, duh mom) At times I've thought she might be missing a crayon from the box, but no. She is right as rain now that I've met the 9,999 other people just as obsessed with everything My Little Pony. This is where boys are called Bronies and girls are Pegasisters. BronyCon is the ComicCon of the animated equestrian world.

Our adventure started in March this year when I decided to make sure each kid had something fun to do this summer. For my artist it was BronyCon held at the Baltimore Convention Center. The three day pass cost a reasonable $70.00 each. It started on a Friday morning at 9am and ended on Sunday at 5pm. Friday night boasted the Bronypalooza, a crazy party that usually lasts until 2am. Sadly I have nothing to draw on to elaborate. I decided I was too old to participate and went to bed by 10. Sorry.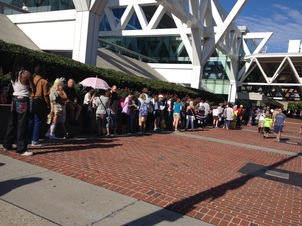 I'm not sure what I expected but it wasn't 10,000 people just like my daughter (hitting the 5 digit mark was a milestone for the Con this year), but I was blown away. And as open and accepting I am of individualism, I had my doubts that were also blown away. I've never been with a group more polite, and not just tolerant but encouraging, as this group. The values that are encouraged in the cartoons are loyalty, respect, and integrity among others. It was so evident. This may have started as a cartoon for young girls but it certainly has morphed into a following that has something for everyone.

Cosplay is a new term I learned. It's what old people used to call 'dressing up as a character'. It wasn't uncommon to find several of the 5 original ponies walking around, not to mention all the secondary characters, and just about anyone wanting to be something from a game or cartoon. Some of the costumes were elaborate and beautiful. Not in the mood to allow a picture or be approached? The interaction cards given with the badges allow a color to signify your comfort level. Don't mind others interacting with you? Choose green. Prefer no one to talk to you that you don't know? Yellow. Just there to observe alone? Wear the red card. Personally I didn't see one red and most people respected the request to ask permission to talk or take pictures. Cool.

There were panels of the original voice actors, panels of the YouTube voice actors, autographs (John de Lancie!), cosplay contests, plushie making sessions, face painting, jamming, gaming, tournaments, and much more. I even learned what will give an edge in breaking into voice acting, and which mikes are preferable to others. Pick and choose what to do and when to do it. Visit what I referred to as Vendor Land. Everything from anime, manga, homemade plushies ($$$), pins, and pony art is sold there. My daughter nearly got whiplash the moment she laid eyes on the size and variety. Besides, there's nothing that makes you feel more alive than finding others just like yourself, enjoying what you enjoy. You know, brothers cut from the same cloth. Here they're bronies. And, welcome, everyone is a brony.

2016 will be just around the corner and Baltimore is again playing host. Got a pony lover? Consider the trip. Expand your horizons and walk away feeling good about your fellow man. I'm sure I'll see you there. Happy Con!