Here's a quick and (mostly healthy) recipe for granola bars for those who can't eat nuts. My family can't get enough of this stuff.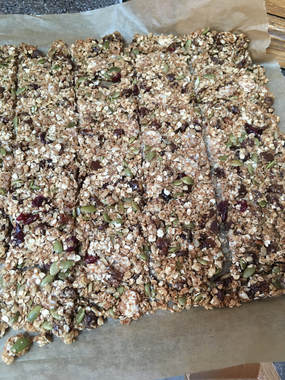 2 1/2 cups quick rolled oats
1/2 cup wheat germ
1/2 cup sunflower seeds
1/2 cup pumpkin seeds
1/2 cup chocolate chips
1/2 cup mini marshmallows (cut in half)
1/2 cup honey
1/3 cup craisins
1/3 cup light karo syrup
1/3 cup vegetable oil
1/4 cup sesame seeds (I forgot to add these to this batch)
1/4 cup bakers cocoa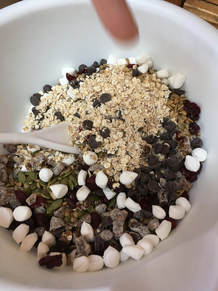 *In a bowl stir together all dry ingredients
*In another bowl combine honey, karo syrup and oil. Stir into oat mixture
*Spread evenly onto a cookie sheet lined with parchment paper
*Bake at 300 degrees for about 1/2 hour
*Allow to set on a wire rack for a few minutes
*Cut into pieces and put in an air-tight container when completely cooled
*Use loose crumbs as yogurt or salad topping


Enjoy!