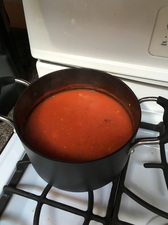 Summer may be winding down but tomato season is amping up. What to do with all the fruit of the earth? Make a quick and easy gluten-free tomato soup to eat now or freeze for later.

A dozen ripe tomatoes, blanched and skinned
1 medium onion, chopped
3 small cloves garlic
A handful of fresh Italian and sweet basil
1 bunch of fresh oregano
3 t dried minced onion
2 t Italian seasoning
*4 T gluten free flour
3/4c water
Salt and pepper to taste

Fill a large saucepan with water and bring it to a boil. Score tomato tops and bottoms with a sharp knife in a 'x'. Carefully drop into water for about a minute or when the skins start to peel back. Lift out with a slotted spoon and allow to cool to handle. Peel skins off.

Add all skinned tomatoes to a large saucepan. Add cloves of garlic, basils, oregano, dried onion and seasoning. Use an immersion blender to crush ingredients. Add fresh onion. Bring to a simmer to cook onion and allow excess water to evaporate, about 20 minutes.

Measure flour into a dressing cruet and add water. Shake to mix. Pour into soup, stirring constantly. Allow to thicken.

Add salt and pepper to taste. Ladle into crocks and enjoy with fresh bread and green salad. Or, cool completely before putting into plastic containers and freeze for another day.

*I use Pillsbury Gluten Free multi-purpose gluten free flour blend. It's made with rice flour, potato starch, pea fiber, tapioca starch and xanthan gum.