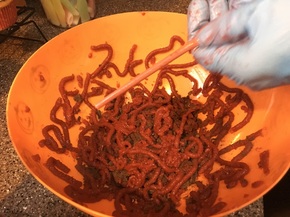 I know better than to believe everything I read on the Internet. I apparently also have too much trust in DIY projects I've found on the Internet. The latest: Gelatin worms in dirt.

As my youngest daughter's birthday is Halloween I've had the opportunity to make weird food for her parties. I relish this creativity and have a built-in audience to be acknowledged as a superior parent figure and master chef (I might have taken some liberties there). After 15 years I have to 'up' my game to continue sparking disgust and delight. Unfortunately, there are several kids in the family with food allergies so I always have to be careful. The latest craze to hit my Facebook page is making gelatin worms in dirt. Allergy friendly and easy instructions had me on board, but the simplicity and speed to make it was what really sold me. Sucker.

The recipe called for making 2 packages of raspberry gelatin and adding 1 package of plain to give them more of a firm texture (think KnoxBlox). Instead, I used the 2 raspberry and decreased the water to achieve the same. It called for more liquid, in the form of heavy cream. Heavy cream is fattening so I used milk but less than suggested. The mixture looked pretty funky already before the 7 drops of green food coloring to achieve that real worm color. Eesh.

The instructions said once it's mixed to refrigerate for 20 minutes for it to firm up so I did that. What it should have said was "if it's not really thickened wait 30." To achieve the wormlike shape bendy straws should be packed into a tall glass. One website suggested putting a piece of bread in the bottom and pushing the straws into it to make a seal. I tried that but when I poured my (not thick enough) mixture into the straws the bread sucked the liquid back out of the straws. I took the straws out and fished for the piece of soggy bread, getting sticky red spots all over the counter. Now that my hands were stained I found a pair of latex gloves and continued.

I discovered the mixture didn't fill the whole straw so I took the bunch out once again to flip them bendy side down. I re-poured the liquid and let it set in the fridge. Now that I've been in the kitchen for hours already baking and decorating 2 different kinds of cupcakes and making Indoor S'Mores it's time to take the jello out of the molds before I spend time on my costume. With only 2 hours left before the party there was already no time for lunch.

I found the perfect bowl for my dish and had the hubby crush up a few chocolate graham crackers for the dirt. I pulled the first straw (I think there was about 50 in the glass) to squeeze out my worms. There's a suction thing with trapped air that I had to work around. The jello didn't want to come out. The internet instructions never really mentioned this obstacle. I tried to stabilize the end of the straw to milk the other side but it kept slipping. Tiny pieces of red gelatinous masses flew onto the walls and window. The only thing I was concerned with was the form. It certainly didn't look like the pictures on Facebook. After washing my red (again) hands and cleaning my kitchen I put on another pair of gloves. The first half dozen tries yielded more flying red pieces. It looked like someone's innards blew up in my kitchen as pieces wiggled as they hung from my cupboards. Talk about gruesome. Fast forward an hour and a half...

There's a learning curve to squeezing gelatin out of a straw; break the suction seal by pushing down in the middle and squeeze each side out. This takes a while and makes smaller worms. Still, if I took my time I could place them on the side of the bowl in a realistic way. Unfortunately, every time we sprinkled the 'dirt' it covered my strategically placed worms so I had to start another layer.

Finally I was done. I had enough time to throw on my costume but no time to fix my hair up or apply makeup. Besides, my fingers were cramped and numb from the repetition. My finished product looked nothing like the Facebook version. But it did fill the disgust quota and was actually kind of tasty. Next time I want to try an 'easy' project I'll wait until April first so the joke can still be on me.